Bautec Engineering is an engineering firm based in Charlotte, NC and is owned by Andrew Mohr. Bautec provides professional Mechanical, Electrical, and Plumbing (MEP) engineering design and consulting services for the construction of buildings primarily in the private sector. Their project types range from designing office spaces, restaurants, schools, retail spaces, warehouses, residential homes, multi-family / mixed use, churches, hotels, and healthcare facilities

Brand Questionnaire / Company Background
Here's a glimpse into a couple of the questions we asked Andrew in the initial branding questionnaire:
Q: Is there a unique story behind your business name?
A: BAUTEC is derived from the German words "Bau", which means Construction, Building, or Structure, and "Technik ",which means Engineering or Technology.
The name was selected to pay homage to my German heritage, for its literal meaning which represents the engineering services we provide, and for the similarity to the word Bauhaus which is the famous early 20th century German art school known for its influence on the modern art movement in architecture, interior design, and color theory. There is no real sentimental connection to Bauhaus. My thought with connecting BAUTEC to Bauhaus is that architects, our primary client base, should be familiar with the Bauhaus movement as it was likely part of their architectural studies in university. The school was very influential to modernism and its principles are still being used today. One of their main principles was that form follows function. In engineering, function is one of our primary objectives in design.
Q: What are the values and/or mission statement of your company?
A: QUALITY | INTEGRITY | SERVICE — BAUTEC was founded on the beliefs that quality should never be compromised, that we have a responsibility to be true and honest to our clients, and that our clients deserve world class service. It's the culmination of these core values that drive us.
Q: Think about your brand or product "image". Choose the words that best describe it.
A: Authoritative, masculine, modern, professional, German / Bavarian-inspired, Bauhaus-inspired.
Moodboard
Our moodboard for Bautec Engineering features strong lines and a nod to Bauhaus styling and color palettes. This was the starting point for our inspiration in finding a strong typeface to use in the main wordmark for the logo(s).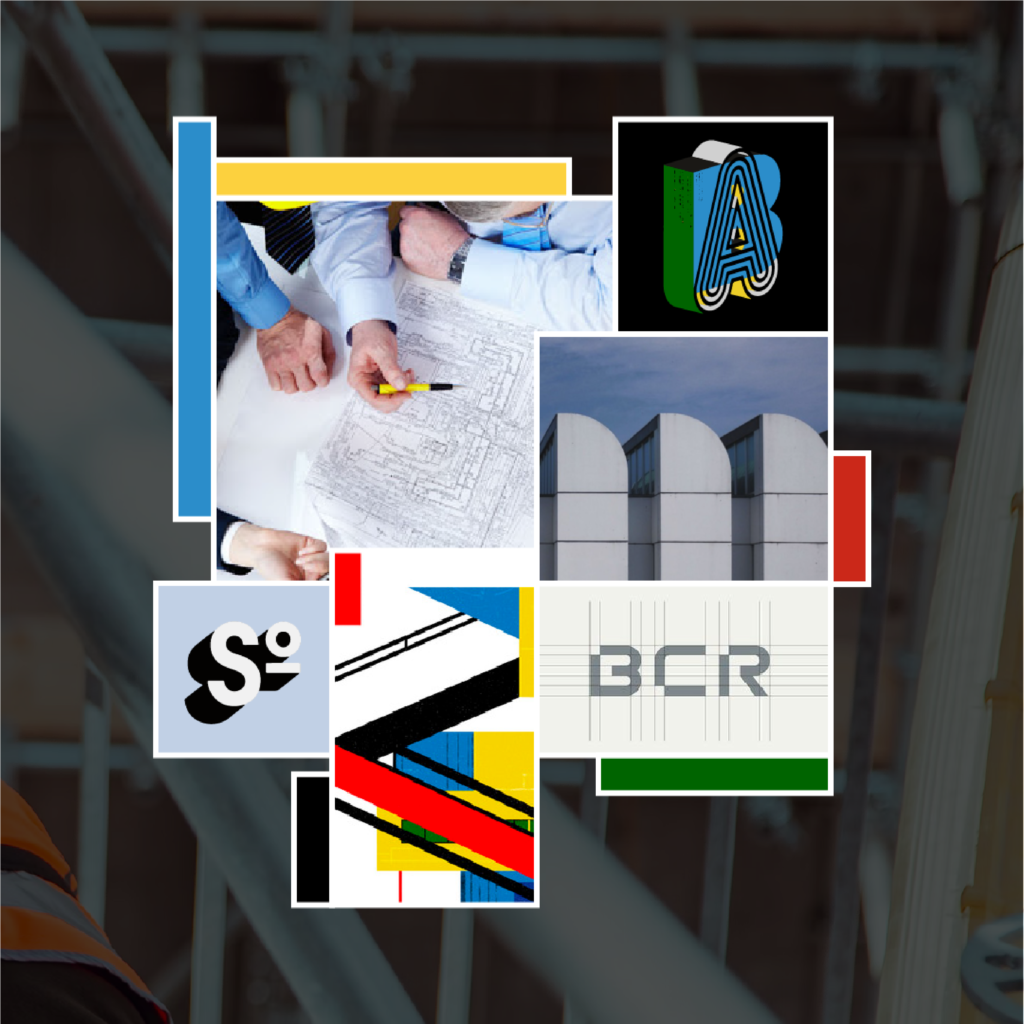 Logo Variations
Andrew provided us with the below standards used in the engineering industry. We took this information and ran to create a system for the shapes and colors used within the logo:
Square = Duct (Mechanical); Red = Heat
Circle = Pipe (Plumbing); Blue = Water
Triangle = Delta (Electrical); Yellow = Lightning
Rectangle = Column (Structural); Black = Steel
Having multiple logo variations is a good sign of a successful brand system. This gives you options when applying your logo into different contexts and spaces (social media, on packaging, in signage, etc.). Below, you will see the main logo mark, followed by secondary logo marks, then monogram or badge style marks.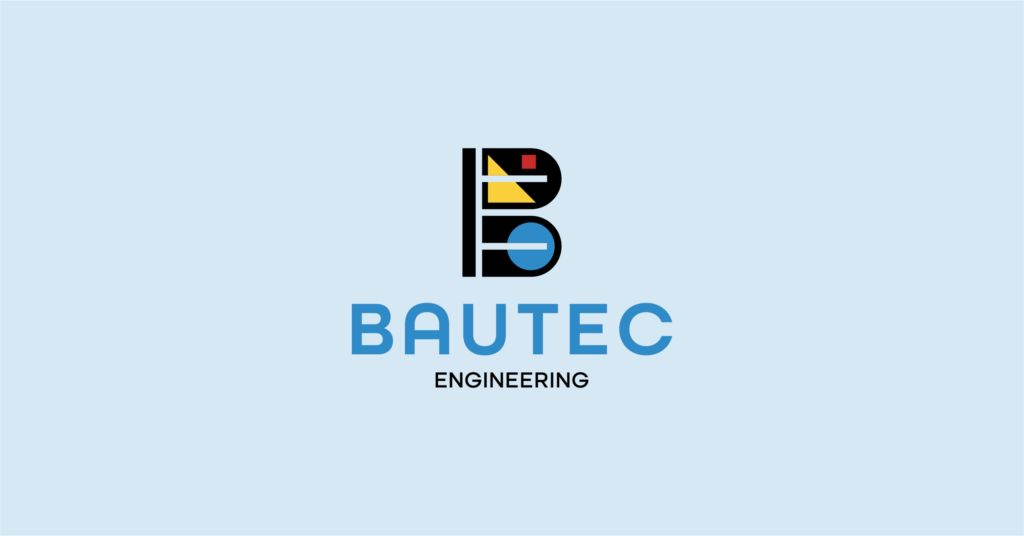 Brand Fonts & Colors
We chose two sans serif fonts that pair well together.
All Round Gothic for the main logo mark (and for headings in other print collateral)
Futura for any secondary copy lines.
The angled page border will be used across print collateral like letterheads, business envelopes, presentations, etc.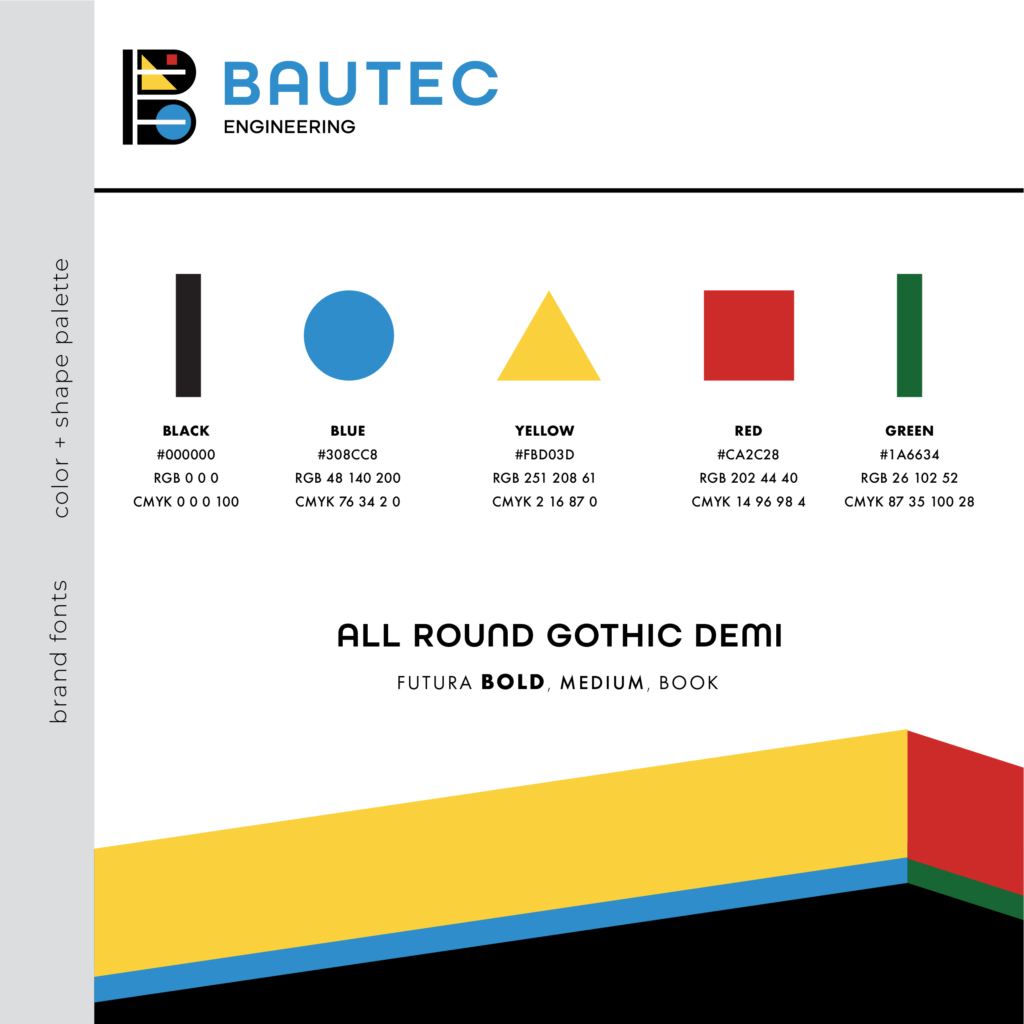 Website Mockup Design
Once we completed the visual brand design portion of this project, Andrew reached back out to also have us create some website mockups.
Squarespace is the website platform of choice for Bautec Engineering, so we provided a few mockups for Andrew to then apply to his website. Take a look at some of our work below!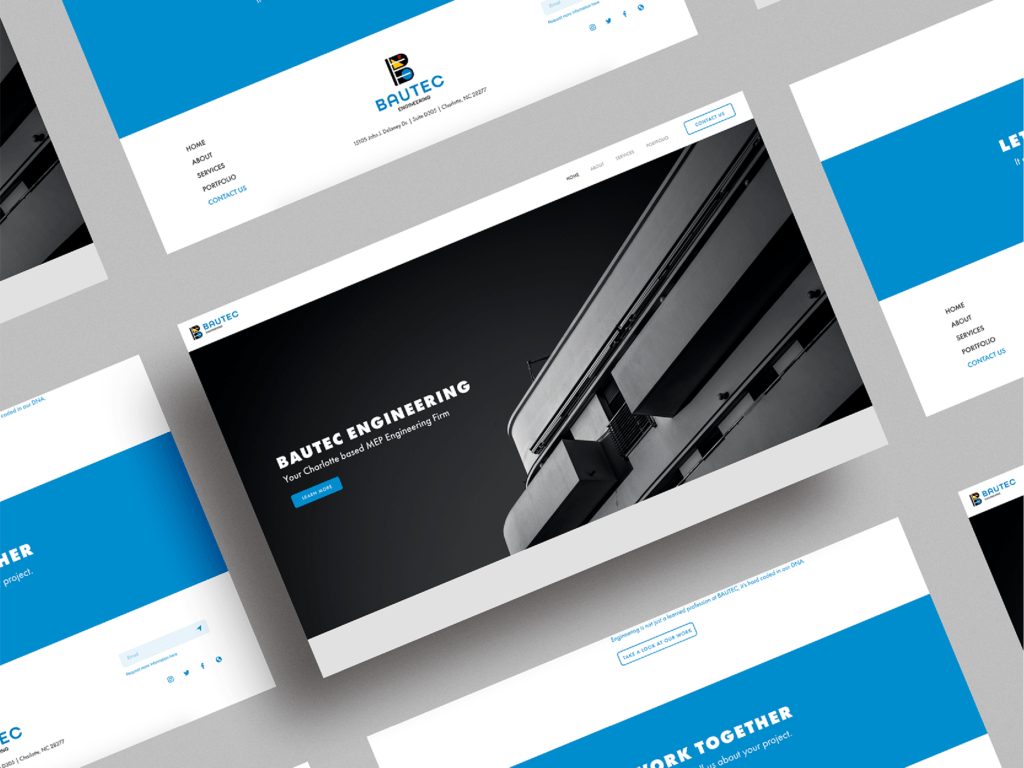 Other Mockups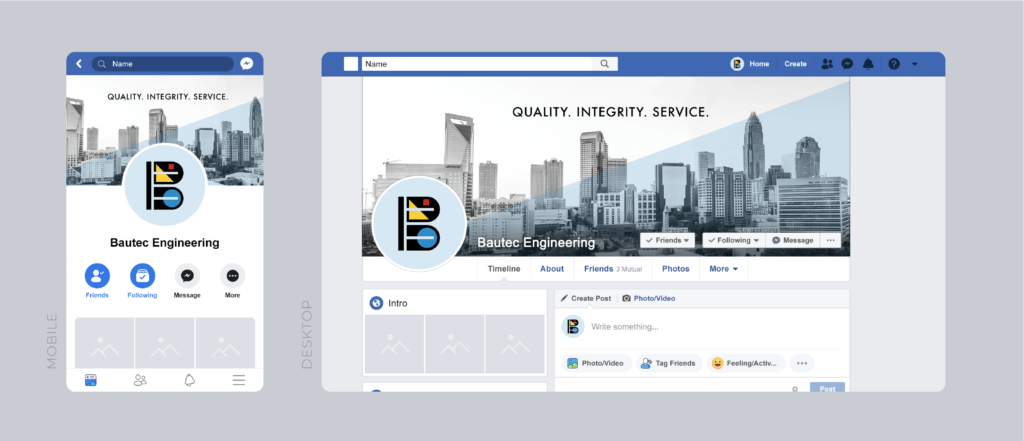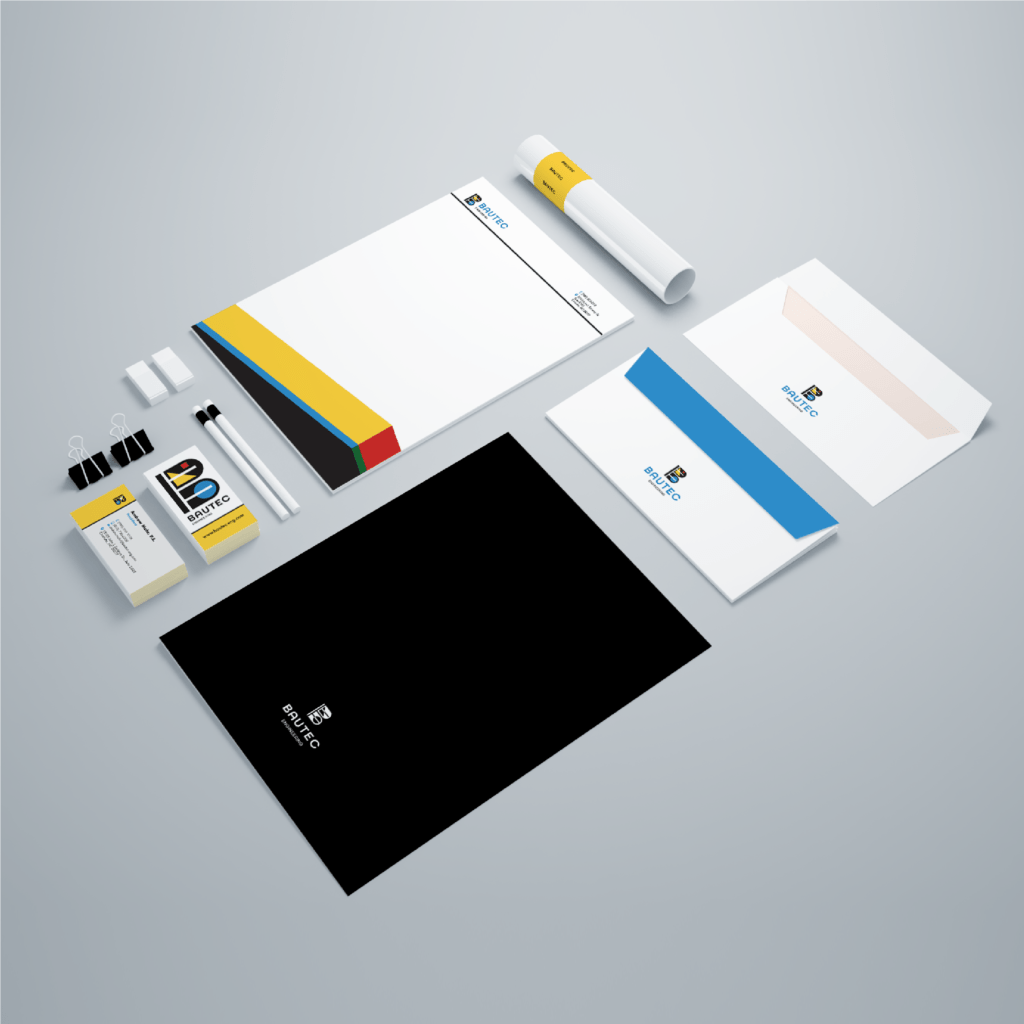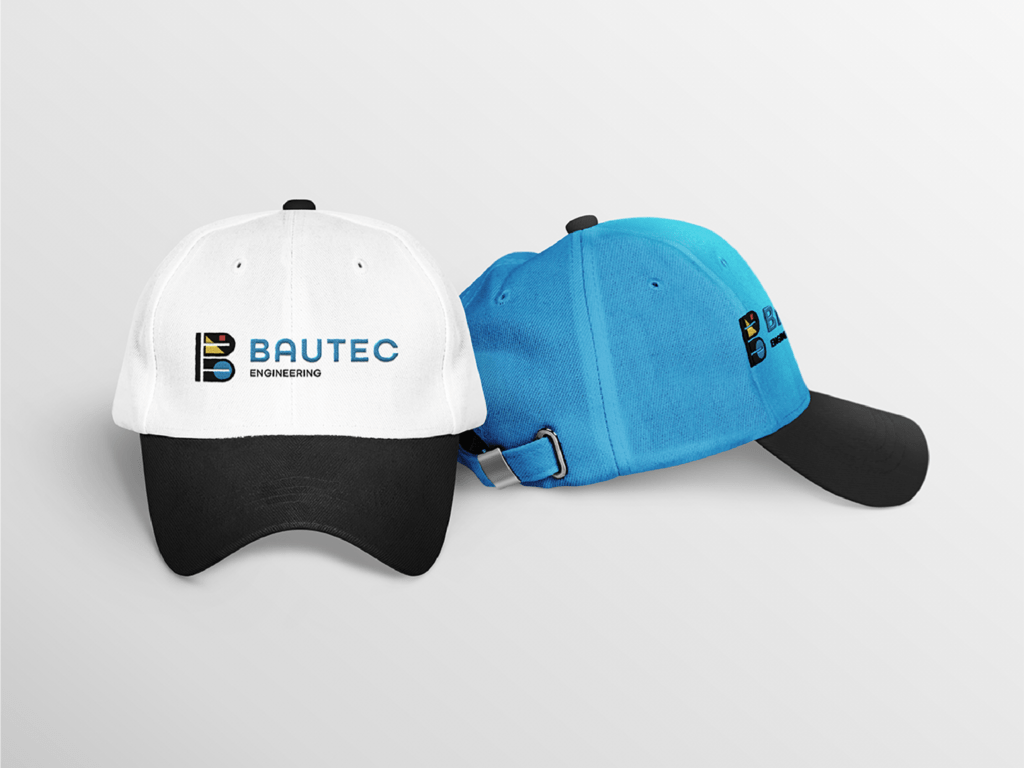 TEAM MEMBERS
Art Director & Designer: Dana Gray
Contributing Brand Designers: Dana Gray, Karlie Altherr, Megan Rich
Other Assets & Website Mockup Design: Megan Rich